Greeting Card - Camo Kitty.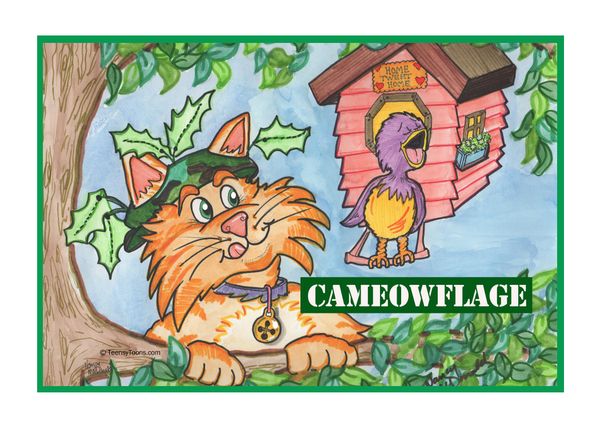 Inside caption reads:
"Be wise and cunning little kitty,
For this is your chance
To finally take out Fast food."
-The Tao of KeeKee, the Cat.
(Text on back of card reads:) "Camo Kitty."
Teensy, a bodacious beagle has a feline sister, KeeKee, who was the inspiration for this cartoon. Born in a swampy forest in Florida, KeeKee was rescued when she was four weeks old and nursed back to health via a baby bottle filled with goat's milk. Though her wild beginning was eons ago, she still feels the need to stalk unsuspecting prey in her backyard. It's all for show however, as KeeKee has an all-you-can-eat buffet at her disposal and a toy box filled with feathery items for her to play with.